Main content starts here, tab to start navigating
About
Bâtard is a Modern European restaurant located at 239 West Broadway in the heart of New York City's TriBeCa neighborhood. Restaurateur Drew Nieporent's long commitment to Tribeca continues in the space that housed the legendary Montrachet. Bâtard is the heir to the groundbreaking food and wine legacy that began here in 1985. Since opening in 2014, Bâtard has innovated a fresh, contemporary edge of "refined simplicity" that is entirely its own. Our extensive wine list includes 800 wines from all over the world, and we also offer a full bar with signature cocktails. Our Michelin-starred Restaurant offers an experience where our guests enjoy casual elegance without pretense. Bâtard offers a timeless setting to make you feel at ease.
Among many accolades, Bâtard has been honored with Three Stars from the New York Times, Three Stars from New York Magazine, a coveted Michelin Star for 6 consecutive years, and a 2015 James Beard Award for "Best New Restaurant" in America.
Executive Chef Doug Brixton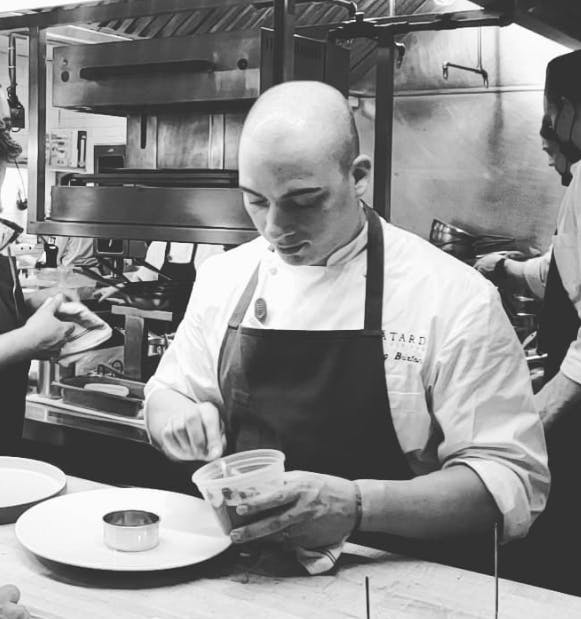 Doug Brixton brings an inspired and contemporary style to Bâtard. His approach to "modern European" cooking comes from his vast experience as sous chef for seven years at Cafe Boulud, db Bistro and Restaurant Daniel.
In 2016 he was awarded the Young Chefs Mentor Grant to cook and dine in some of the best restaurants in France, where he cooked at Troisgros, and other fine restaurants in Lyon.
Doug has a unique style, and is a passionate mentor to young chefs under his wing. The menu at Bâtard is a culmination of experience and flavors brought to life by Chef Brixton to tell his story.